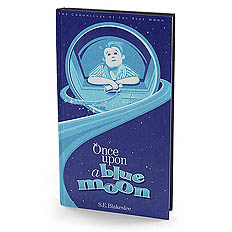 Author: S.E. Blakeslee
ISBN 9-780978-903107
A child's imagination knows no limits. So when a child wants his sick playmate well, he makes a wish. Magic and hope come in the form of Freddy.
Freddy is a mystical entity -- the answer to the child's wish. When Freddy cannot convince the child to take him to his playmate in his magical form, Freddy becomes a blanket that grownups will not question. The boy lays the blanket over his friend -- she stirs and is soon well. The grownups attribute the child's recovery to good medicine, but the little boy knew that it was you-know-who.
When Freddy is no longer needed as a blanket, he turns into a chair. Freddy reveals his inner light and promises to show the children words and wonders when they come sit with him. Next, Freddy transforms into a magic carpet, speeding off with his newfound friends to marvel all that creation has to offer.
Time is short and eventually the course is run -- another request for Freddy's presence was received. Off Freddy goes in the name of love to give another child the hope he had given to the little boy's friend.
And so it seems this is a fairytale set to rhyme, but some say Freddy does exist. In fact, readers are encouraged to contact rmcrain@freddyspotters.org.
This was such an uplifting tale -- the first in a series. It's one that adults will enjoy reading and rereading -- even to their children. The book also may be read in a Freddy chair (holds up to 300 pounds). Both book and chair are available at www.freddyrocks.com.
The above review was contributed by:  Sue Vogan, Writer & Author of NCO-No Compassion Observed: To read more of Sue's reviews Click Here