Click Here To Purchase From Amazon The Pirate Queen: Queen Elizabeth I, Her Pirate Adventures, and the Dawn of Empire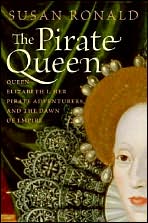 Author:  Susan Ronald
ISBN: 978-0060820664
When Elizabeth Tudor became Queen she was beset with struggles. The Queen was constantly under threat from relatives, all trying to lay claim to her throne, religious fracturing was pulling her country to pieces, and her treasury empty. The Pirate Queen takes a fresh look at the reign of Elizabeth I, and shows how she used piracy as the foundation that not only solved her financial woes, but also made England a force to be reckoned with.
Elizabeth I, especially in recent years it seems, has had a wealth of books written about her and her reign, along with a host of movies and documentaries. Her life has been picked apart by biographers to the extreme, and as many rumors fly around her today as they did during her lifetime. The question begs to be asked "Do we really need another Elizabeth biography"? The answer, at least in regards to The Pirate Queen, is a resounding yes!  Susan Ronald's book takes a fresh look at the beleaguered monarch and, instead of focusing on her possible love affairs, details in depth why so many of her colleagues called her 'The Pirate Queen'. While many books have touched upon the importance of pirates to Elizabeth's reign, none have brought it to the fore front and placed it into historical perspective as Susan Ronald has.
The Pirate Queen is exhaustively well researched, and the intricate sea battles and political intrigues are made readable and explainable to the casual reader. How rare to find an entertaining book whose history can't be faulted! Susan Ronald paints a compelling portrait of Elizabeth I, and an all too human one. Ronald is not as sympathetic as many Elizabeth I biographers are and you really get a sense that you are 'seeing' the Queen in full for the first time. Rather then focus on her lovers, or possible lovers, she focuses on the Queen herself, masterfully weaving the life of Elizabeth into the larger tale of how England went from a poor country on the fringe of the world, and bankruptcy, to an empire that covered two fifths of the world.
The above review was contributed by:  Renee Mallett:  Renee is a  published journalist, reviewer, and creative writer, freelance editor and author of several non-fiction books. To read more of Renee's reviews CLICK HERE 
Click Here To Purchase From Amazon The Pirate Queen: Queen Elizabeth I, Her Pirate Adventures, and the Dawn of Empire