Author: Kenneth J Harvey
ISBN: 0312342225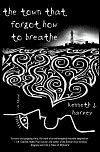 The following review was contributed by: Emily Burson:  Click Here To Read More of  Emily's Reviews
 Suffocating in the Mystery
"The Town that Forgot How to Breathe" is a powerful tour-de-force that will leave the reader wanting to know more from the very first page to the very last. Part Stephen King, part Robin Cook, and all mystery, this is a book that is sometimes frightening and sometimes haunting, sometimes both at the same time.
"The Town that Forgot How to Breathe" begins with the eerie and sometimes comical voice of a woman who used to be able to communicate with the spirits in her Newfoundland town. Her inability to still do so immediately puts the reader on edge, and it is for good reason. There have been horrible deaths, most of them because of the sea, in Bareneed, and both the spirit world and the real world are restless. It is only when a young father and his eight year old daughter come to summer at Bareneed that things start to get really strange.
What happened to the father and daughter that disappeared all those years ago? Did they simply slip off into the night, or was there something more sinister happening? What happens to the restless spirits when they long to keep that connection to the world they once loved?
As the spirit world begins to shift, the people of Bareneed are getting sicker and sicker. Many of them are simply forgetting how to breathe. The normal ins and outs of breath no longer make sense…they are unable to do even the most rote and simple of bodily functions. Losing the ability to breathe means losing the ability to live, and people, both young and old, are dying. What is causing the mysterious illness and what will happen when the sea decides to reveal the horrible mysteries that it holds?
"The Town that Forgot How to Breathe" is downright frightening sometimes. And sometimes, your heart will break as a young father and his daughter continue to fall deeper and deeper under the spell of this mysterious town. Will anyone get out alive? And, if they live, will they ever be the same?
Author Kenneth J. Harvey is making his American debut with "The Town that Forgot How to Breathe." He is an accomplished author in his native Canada where his books have won the Raddall Atlantic Fiction Prize.