Click Here To Purchase From Amazon Eight Million Ways to Die:25th Anniversary Edition
Author: Lawrence Block
ISBN: 978-0-06-145796-8
Publishers: William Morrow, an imprint of HarperCollins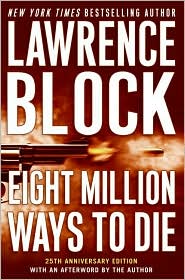 Based on the only other Lawrence Block book I've read, I was expecting some very tongue-in-cheek writing from this newly re-released version of "Eight Million Ways to Die." This book, however, couldn't have been more sobering, although it's not surprising at all that William Morrow is capitalizing on the book's 25th anniversary to call attention to some great writing. Block's story of the seamy side of New York is just as engaging today as the day he wrote it.
"Eight Million Ways to Die" focuses on Private Investigator Matt Scudder, an alcoholic ex-cop who now operates on the fringes of society (even without a PI license). When a young prostitute hires Scudder to help her convince her pimp to let her out of the game, Scudder thinks he's earned some easy money. Everything goes well, that is until she turns up dead two days later.
The heart and soul of this mystery novel is the search to uncover just who the prostitute was, why she was killed, and by whom—all done while the detective is battling his own inner demons. Even as Scudder seeks to count the sober days, the plot and his addiction seem to grow stronger with every twist of the story. Surrounding it all is the gritty underbelly of New York City, full of thugs just waiting to kill or be killed. It's a grim setting, but the story itself (surprisingly) never gets depressing.
Block's character development--whether it's of pimps, winos, crackheads, hookers, or hard drinking cops--never falters. They become fascinating people with complicated lives whose actions readers are eager to follow. Even without the murder mystery plotline, the characters are so engaging that following the clues Block leaves to the mystery seems secondary to understanding just what makes these people tick.
Much of the action and seedy backdrop to the story point up to the title of the mystery novel, that there are eight million ways to die in New York on any given day. There's plenty of bar room philosophy on this point throughout Block's novel, but it is never heavy handed. Instead, Block allows us into his characters' minds and leavens some of Scudder's own depressing thoughts with self-deprecating humor. The story itself is secondary to Block's characters, their vision of themselves, and their world. Block is an immensely talented writer; few authors can create scenes and stories this depressing and leave readers longing for more. That's Block's writing genius at work. Don't miss this masterpiece!
Click Here To Purchase From Amazon Eight Million Ways to Die:25th Anniversary Edition
The above review was contributed by Christine Zibas. Christine has spent all of her life in love with books, and most of her life working with words. She has a B.A. in Political Science from Western Illinois University and did advanced studies in politics and publishing at WIU, Oxford University, George Washington University, and Stanford. 

For many years Christine was an editor in the think tank world, editing books and reports on international relations and military studies. She worked at the Center for Strategic and International Studies in Washington, D.C. and the Johns Hopkins Foreign Policy Institute, where she served as director of publications. In London she was the editor at the International Institute for Strategic Studies.
Click Image Below To Find Out More About Eight Million Ways to Die:25th Anniversary Edition(Note: May Not Work With All Browsers)